Your Veterinary Clinic Blog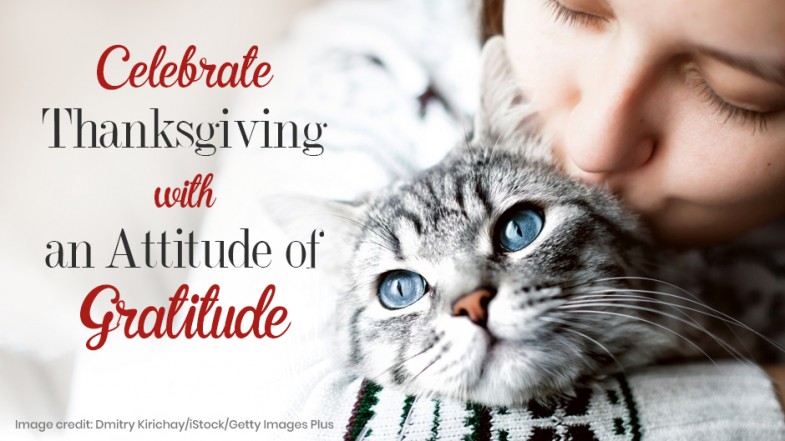 2020-11-06
Despite all that has happened in 2020, this year has its hidden gems. From having more time to snuggle with the cat to greeting neighbors working from home on walks with the dog, there is still so much to be thankful for as we approach Thanksgiving.
While we usually dedicate our November blog post to preventing your pets from gobbling up the turkey, we decided to spread some cheer with the top three reasons we're thankful this year and how you can share the love with your animal companions.
1. We Are Thankful for Our Pets
Big or small, furry or bald, pets deserve a round of applause for making the hard days easier and the best days better. Our furry friends make us smile and laugh and give us purpose. Pets improve our mental and physical health, and they never expect us to say, "Thank you." They simply want us to love them back.
Because pets enhance our lives, we are grateful to be entrusted with theirs. Thank you for your confidence in our ability to provide your pet with loving care during their visit and your trust that our guidance improves your pet's overall health and wellbeing.
2. We Are Thankful for Clients that Support Local Veterinarians
Like other private practice vets, we stayed open as an essential business when coronavirus struck. Veterinary clinics across the U.S. have seen a sharp decline in appointments, forcing many to shut their doors permanently. While we were unsure what to expect in our office, we found that many of you brought your pet in for their regular exams, emerging conditions, and emergencies.
Because of that, we're able to continue our mission to provide every pet that enters our clinic world-class professional veterinary care. We are grateful for those that continue to make appointments and seek care for their dogs, cats, and other pets from independent practices like ours.
3. We Are Thankful for Our Team
Working at a veterinary clinic can feel like herding cats…and sometimes we quite literally are! Our staff members play a vital role in keeping pets healthy, safe, comfortable, and happy. We are so grateful for a team that puts every ounce of energy, know-how, and love towards helping furry patients and their human parents. There are no words that describe how lucky we are to have such a caring crew.
How to Show Gratitude to Pets for All They Do
Pets are our best friends, our secret keepers, and our guardians. It may seem nearly impossible to repay all they do for us, but here are some ways to show them just how much they're appreciated.
1) Help Your Pet Live a Long, Healthy Life
Routine exams, preventative care, and early diagnosis provide your pet with their healthiest and happiest life. From preventing parasites to catching cancer before it steals your pet's health, regular veterinary visits are a valuable tool for repaying your pet's love and companionship.
2) Spend Quality Time with Your Pet
Your pet loves you and enjoys spending time with you. (Yes, even your cat.) As the chaos of the holidays approaches, carve out time to spend with your pet. If you're worried about a busy calendar, hire a pet professional for a home visit, or book a stay at a boarding facility to ensure your furry companion receives enough human attention.
3) Provide Your Pet with a Healthy Diet and Exercise
Obesity isn't a small problem: it's a fat fact that extra weight shortens a pet's life. As winter arrives and the novelty of long walks wears off, don't wane on keeping your pet active. Animals need to keep moving to keep their joints healthy, muscles toned, and minds stimulated. Play indoors by hiding treats around the house or using toys to keep your pet busy.
Feed your pet a well-balanced, high-quality diet and appropriate portions for their ideal size. If you're unsure about the right food or feeding schedule, contact us for guidance. We're happy to talk about pet nutrition and find the best food and treats for your companion.
4) Provide Your Pet with a Calm Refuge from Holiday Chaos
If you have a nervous pet, prepare a space for them to relax during the hustle and bustle of the holidays. A room with curtains drawn, a comfortable spot to lie down, and relaxing music will do the trick. You can also help your pet avoid stress caused by visitors by having them boarded.
5) Provide for Your Pet's Cold Weather Needs
Pets are thankful for warm beds with a few additional blankets during the winter months, particularly if they have a few years under their collar. During walks, avoid icy areas to prevent sprains and strains and consider dressing your dog in a sweater or jacket if they have a thin coat.
We Are Thankful for You and Your Pets
Every wagging tail reminds us of our dedication to providing pets and their owners with quality veterinary care. We are lucky to have incredible clients, particularly during this challenging year, and we thank you for your continued trust, support, and patience. Happy Thanksgiving from your veterinary team!
Categories
Recent Posts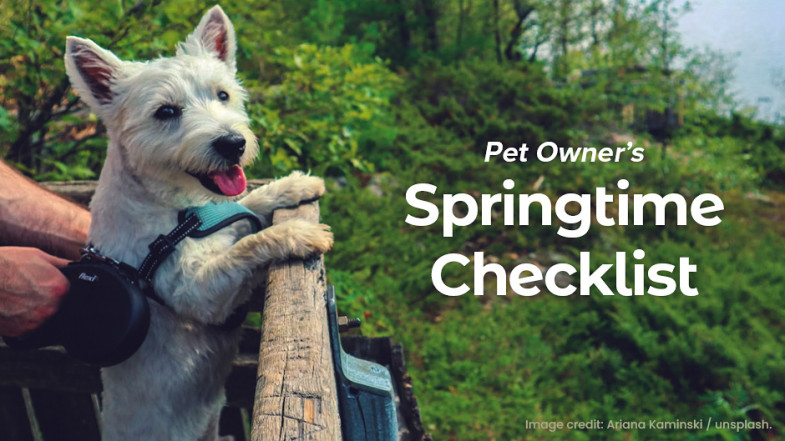 Pet Owner's Springtime Checklist
Have you thrown yourself into your spring cleaning? If you're like most people, you're airing out the house, getting some plants in the ground, and enjoying the beauty of this season with your pet by your side. In fact, this is one of the best times of year to be a pet–the birds and squirrels are active and back to their favorite hobby of entertaining our dogs and cats, and the weather is perfect for letting some fresh air in for your cat or taking your dog on a long walk. If you've knocked out your spring cleaning and are ready to move on to some pet care musts, we're here to help! We put together a list to help you plan your springtime pet care.
Read More